Crudités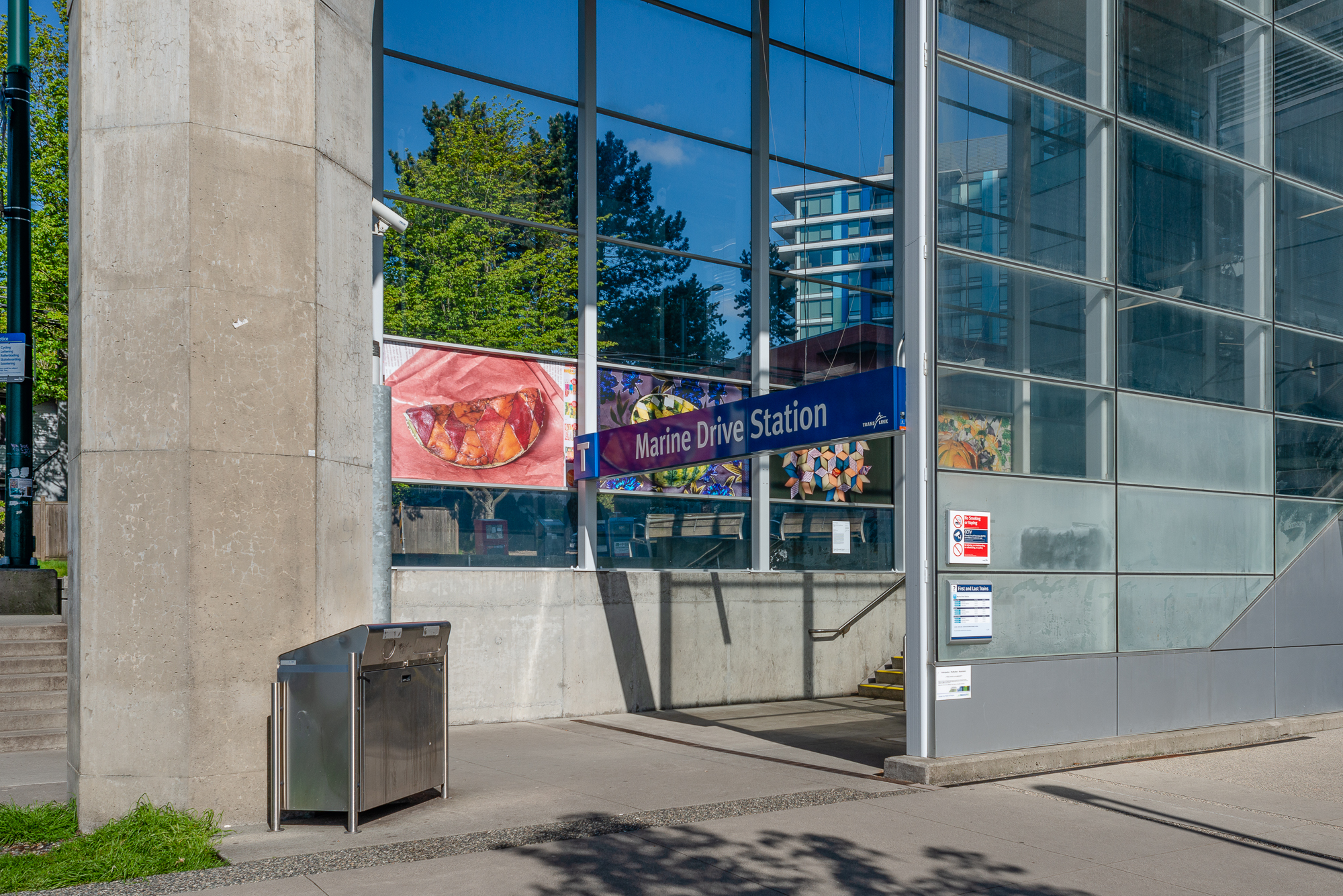 Svava Tergesen
Curated by Andrea Valentine-Lewis
Capture Photography Festival – Marine Drive Station
April 1 – August 31, 2022
In the fall of 2019, illness caused artist Svava Tergesen to lose her appetite. Though the thought of consuming foods in her fridge repulsed the artist, she wanted to engage with the materiality of fruits through touch and sight, rather than taste. For her series Crudités, Tergesen began composing surreal ornamental arrangements using the citrus fruits, melons, pears, and squash she sourced locally, including at Marine Drive's T&T Supermarket. No longer needing to account for appropriate ripeness, texture, bruising, and other considerations associated with food consumption, Tergesen selected fruits as if they were the coloured glass or pigments used in the creation of a stained-glass window. The artist's saturated colour palette, domestic textiles, and unusually flat lighting are reminiscent of some of the uncanny food photography of the 1950s and '60s found in magazines and on recipe cards. In Tergesen's work, manipulating food becomes a playful and aesthetic gesture, rather than a task focused on nurturing the family, offering resistance to or a reimagining of domestic tasks within the household.
For Tergesen, her large format camera and analog film act as plastic wrap, preserving the precarious arrangements and halting the inevitable process of decomposition that food faces. Her camera is also utilized as a bridge between photography and sculpture and between photography and disciplines that are typically referred to as "craft", such as quilting, crocheting, and even cooking.
Presented in partnership with Burrard Arts Foundation and the Canada Line Public Art Program – InTransit BC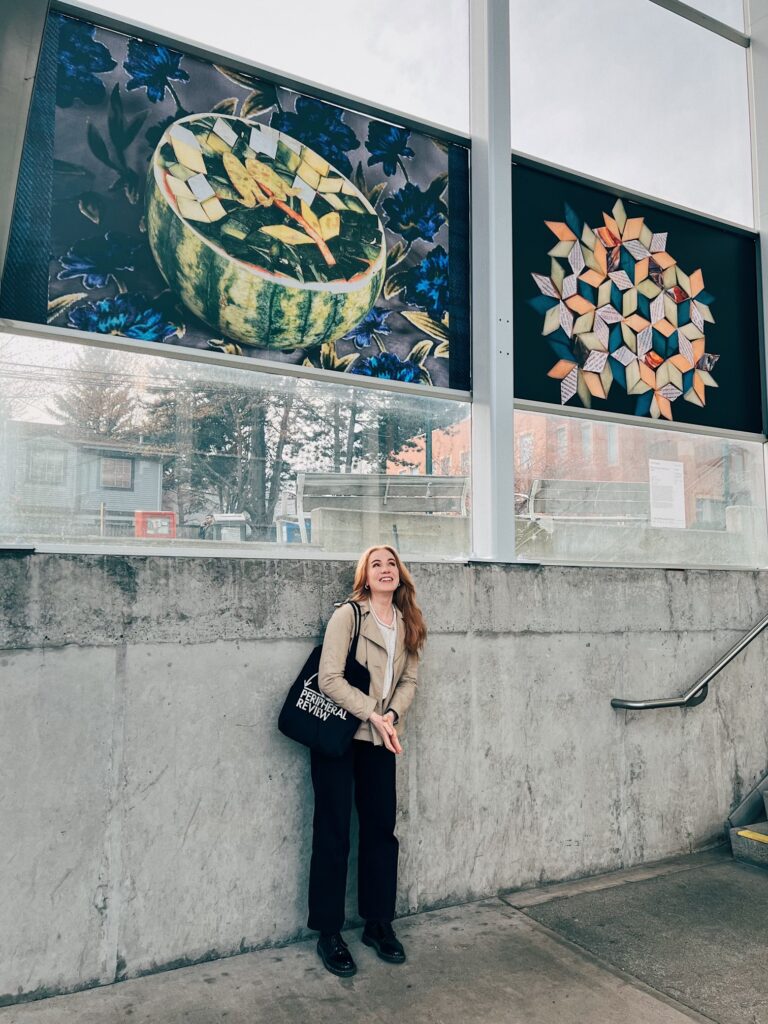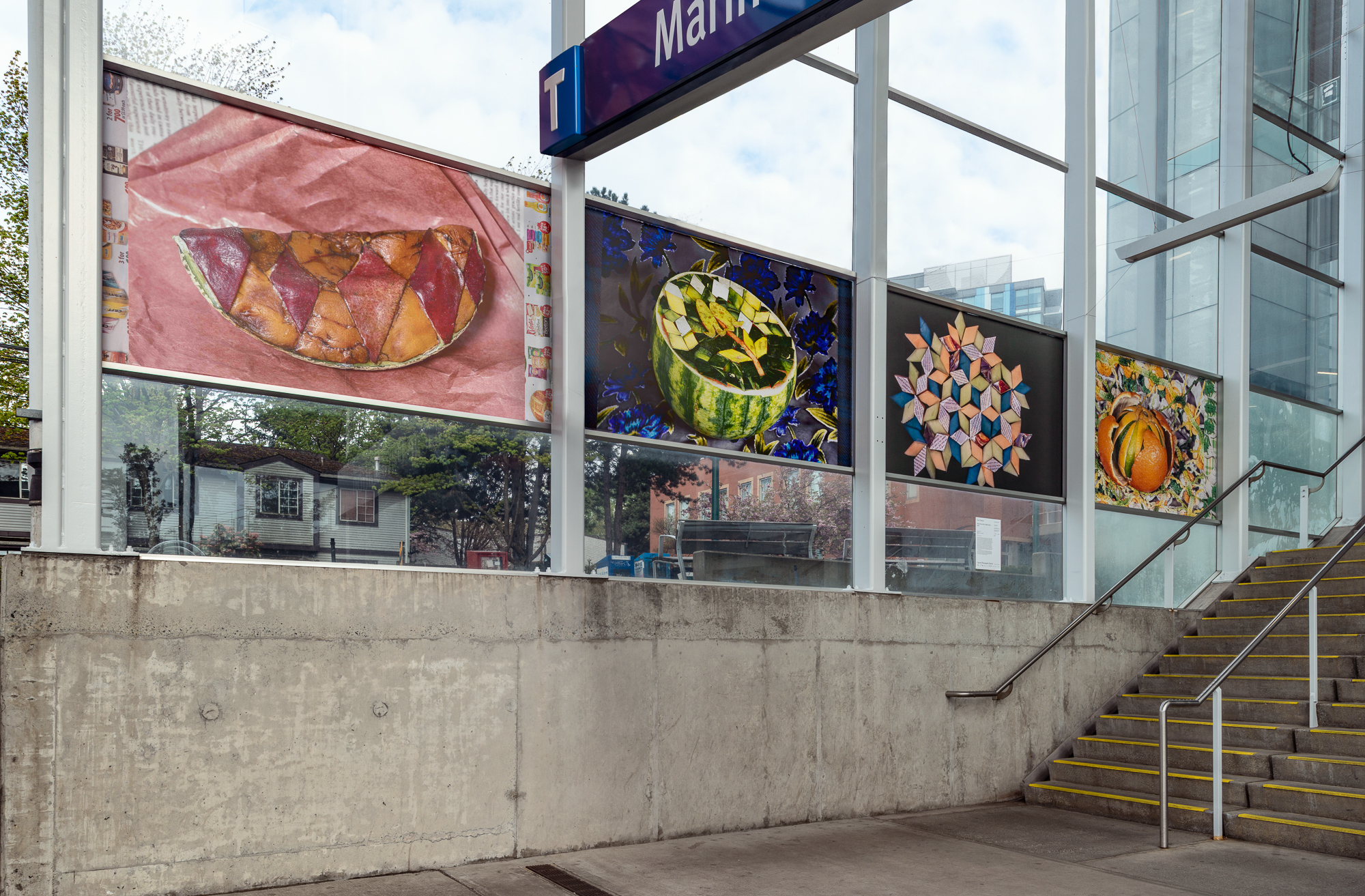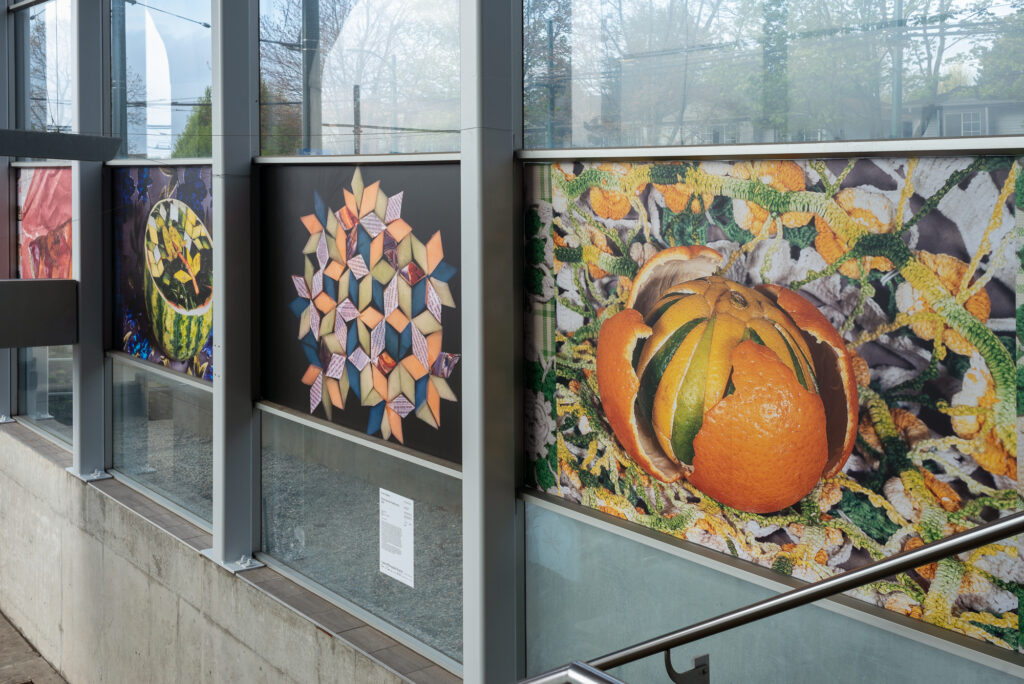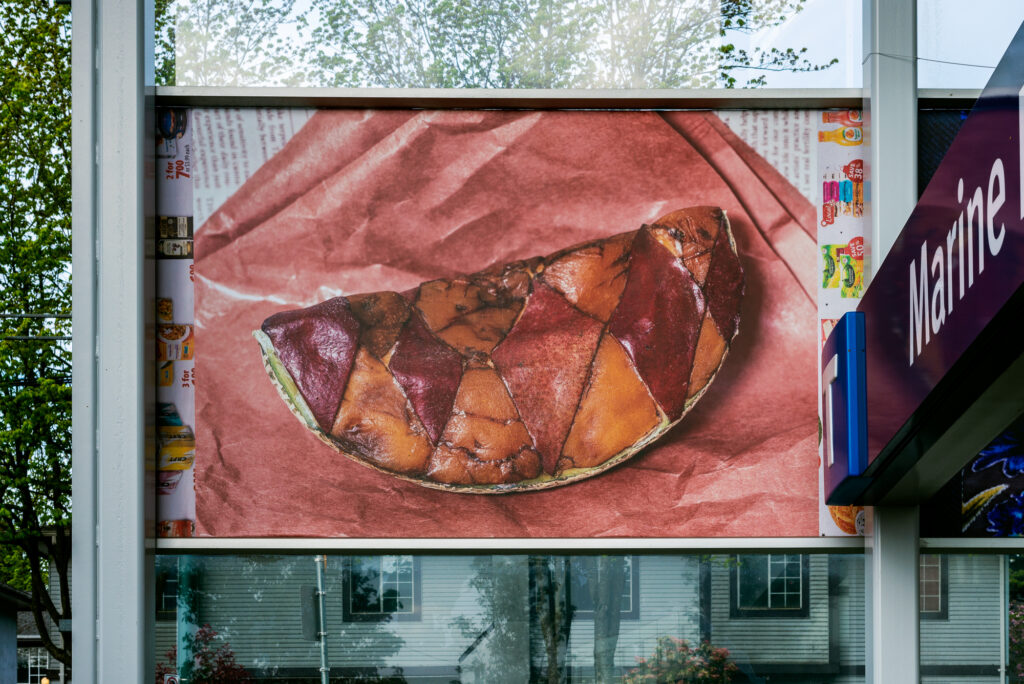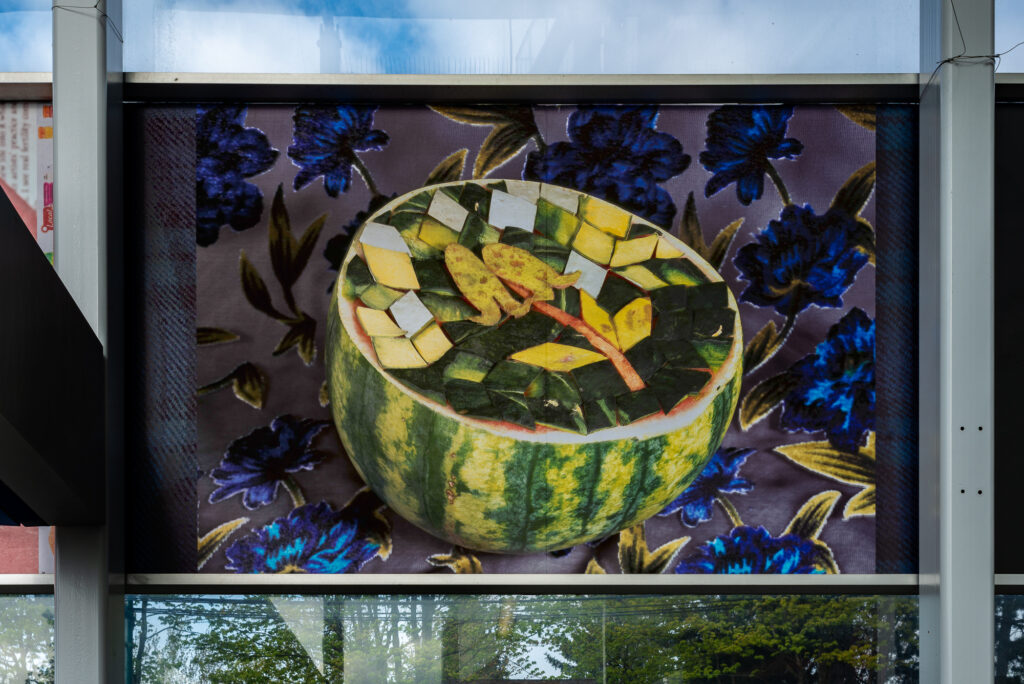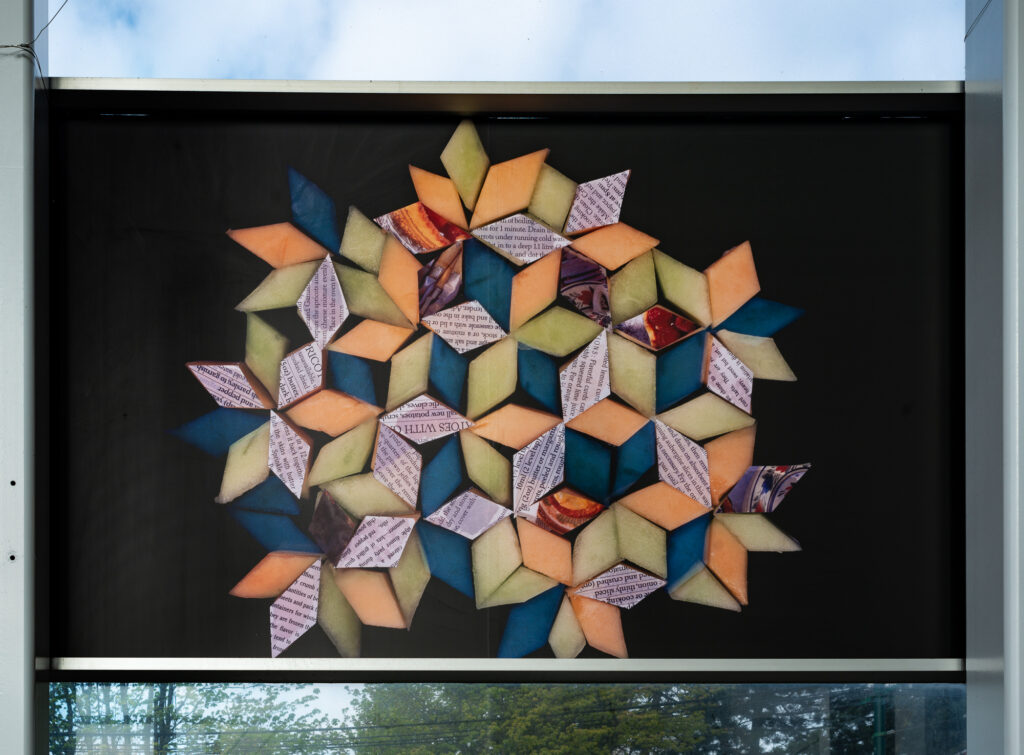 Svava Tergesen (she/her) is an interdisciplinary artist currently living and working on the unceded territories of the Squamish, Musqueam, and Tsleil-Waututh Nations (colonially known as Vancouver, BC, Canada). Recent solo exhibitions include Garnished Sundries at Telephone Gallery in Vancouver, BC (2022). Selected group exhibitions include VGH & UBC Hospital Foundation Art Collection at Trapp Projects in Vancouver, BC (2022), The Big Camera Show at the University of Iowa (2022), Open Studios Group Show at the Banff Centre (2022), To Stay Related at Nextdoor Gallery in Vancouver, BC (2021), Discovery at Seymour Art Gallery in North Vancouver (2021), and The Lind Prize at The Polygon Gallery in North Vancouver (2020). In 2021, Tergesen held a Visual Art Residency at the Banff Centre for the Arts and Creativity. She was shortlisted for a PENN Idea Art Award (2022), longlisted for a Critical Mass Finalist (2021), longlisted for a New Generation Photography Award (2021), shortlisted for a Philip B. Lind Emerging Artist Prize (2020), and listed as a Top 25 to Watch with Lenscratch (2020). Tergesen holds a BFA in Photography from Emily Carr University of Art + Design (2020) and a BA in Mathematics from McGill University (2016).