a distance, a heart felt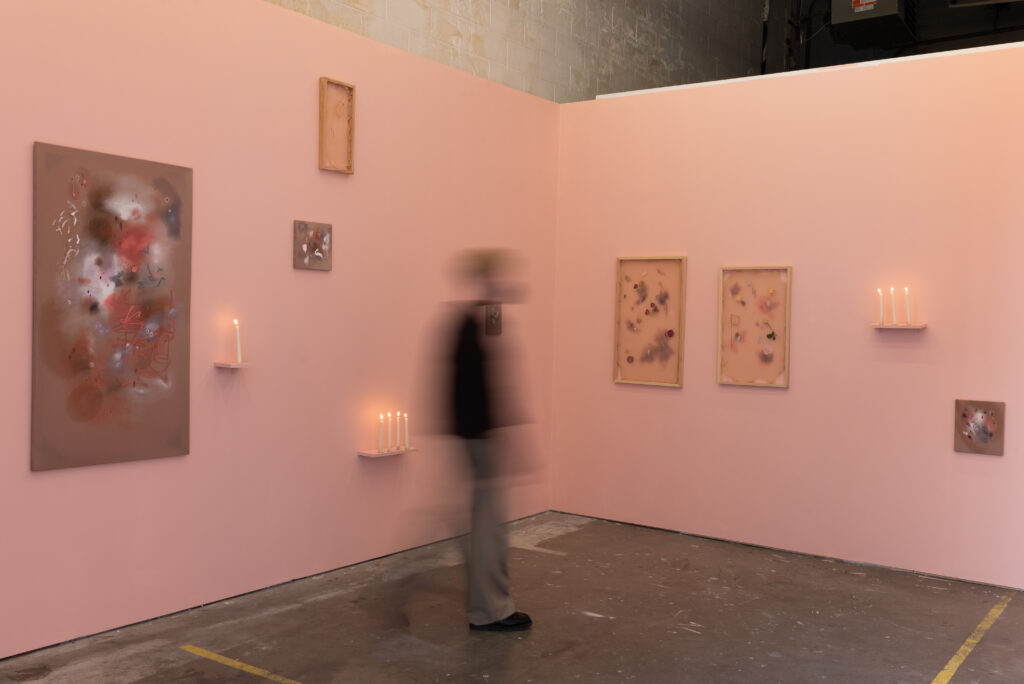 Eric Tkacyzk
Curated by Andrea Valentine-Lewis
Duplex Artist Society, Vancouver, BC
May 6 – May 25, 2022
–
Blood rises to the surface of the skin
Blush, for a pinkish powder to replicate
Where there is a deficiency, there is a vice
A filter for you to flow through
Piercing a hole for a gem to nestle
Socks for your whole body.
A comfort in stillness
For once, a barren calm
When can I come home,
To the house amidst the vast, flat fields?
The one that is located far from the others
The one that taught me about distance
And how it soothes.
–
a distance, a heart felt presents painted works by Eric Tkacyzk from the past few years that reflect the artist's desire to understand the complexity and performative expressions of gender and identity. In his 2021 series Stockings Run Through Potpourri, tight-woven, beige nylon is pulled taut across a row of nails revealing a surface for negotiation – where tender stiches repair gaping holes and dried rose petals balance the violent scarring imposed on the fabric. Between the raw wood frames, we are privy to witness a harmonious bareness – a composition with its own personal boundaries that reveals as much as it can within its own comfort.
His 2019 series of paintings are also composed on the surface of taut nylon that the artist has used to envelope wood frames; the translucency of the springy fabric exposes the frames – an aura of a shadowy presence assuming a position in the margins. Upon the nylon, Tkaczyk renders what appears like chalky purple bruises and sketches in coral lipstick that ooze a thin oil like the residue produced by expired makeup. The gentle playfulness of each gesture on the nylon gives it a transient, in-progress quality mirroring his own ongoing mediation with identity.
Consistent in Tkaczyk's work across disciplines including digital performance, installation, and painting, is a demonstration of the artist's seemingly composed posture while exploring themes around disembodiment, fragmentation, and transience through queer sensibilities. While these explorations can be cathartic, devastating, and difficult, Tkaczyk manages to make work that appears so elegant and controlled – a palpable tension.
For this exhibition, we created a special environment using colour and light to facilitate a space for you to explore your own sentimentalities that may emerge with the work.
–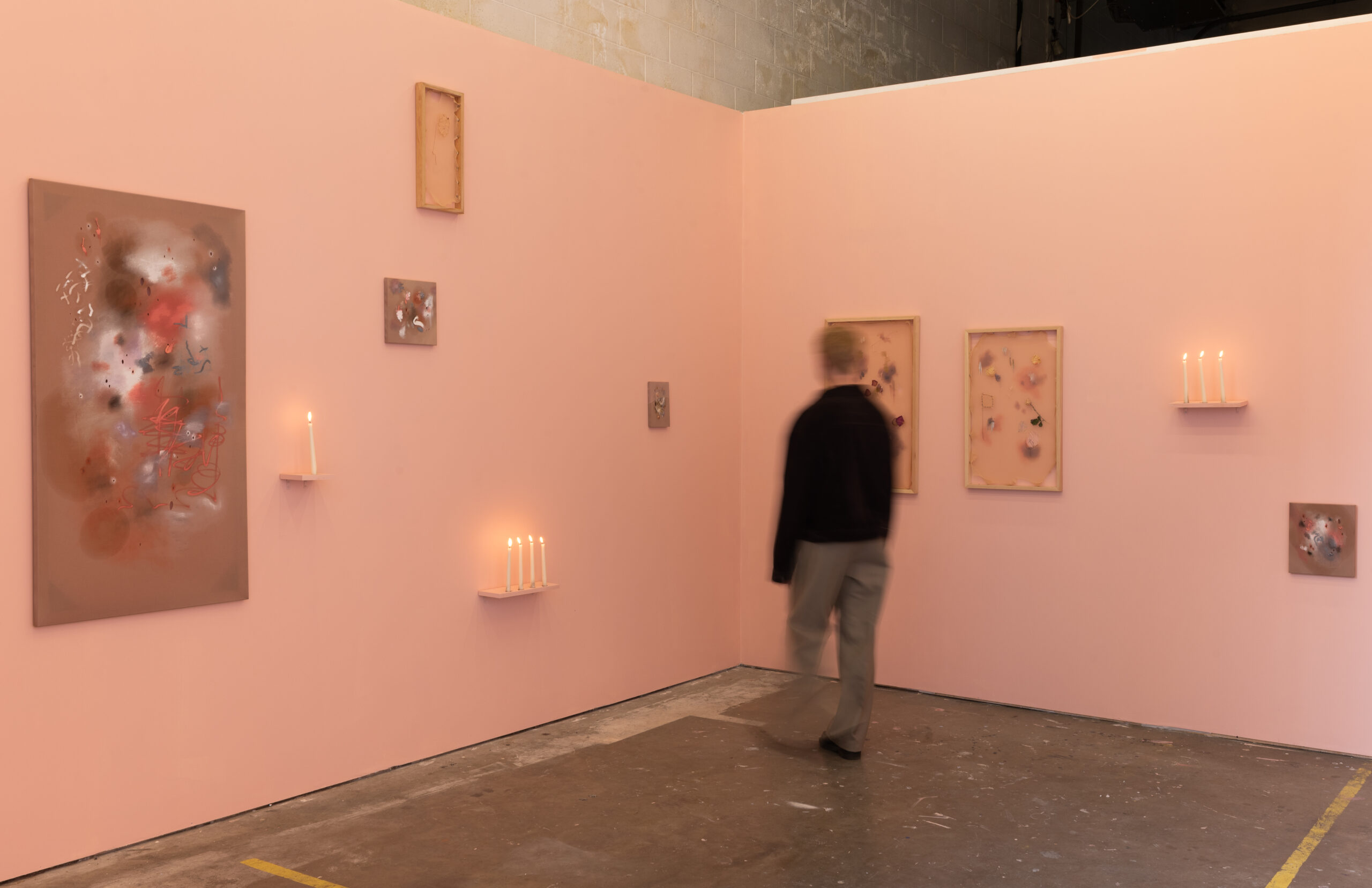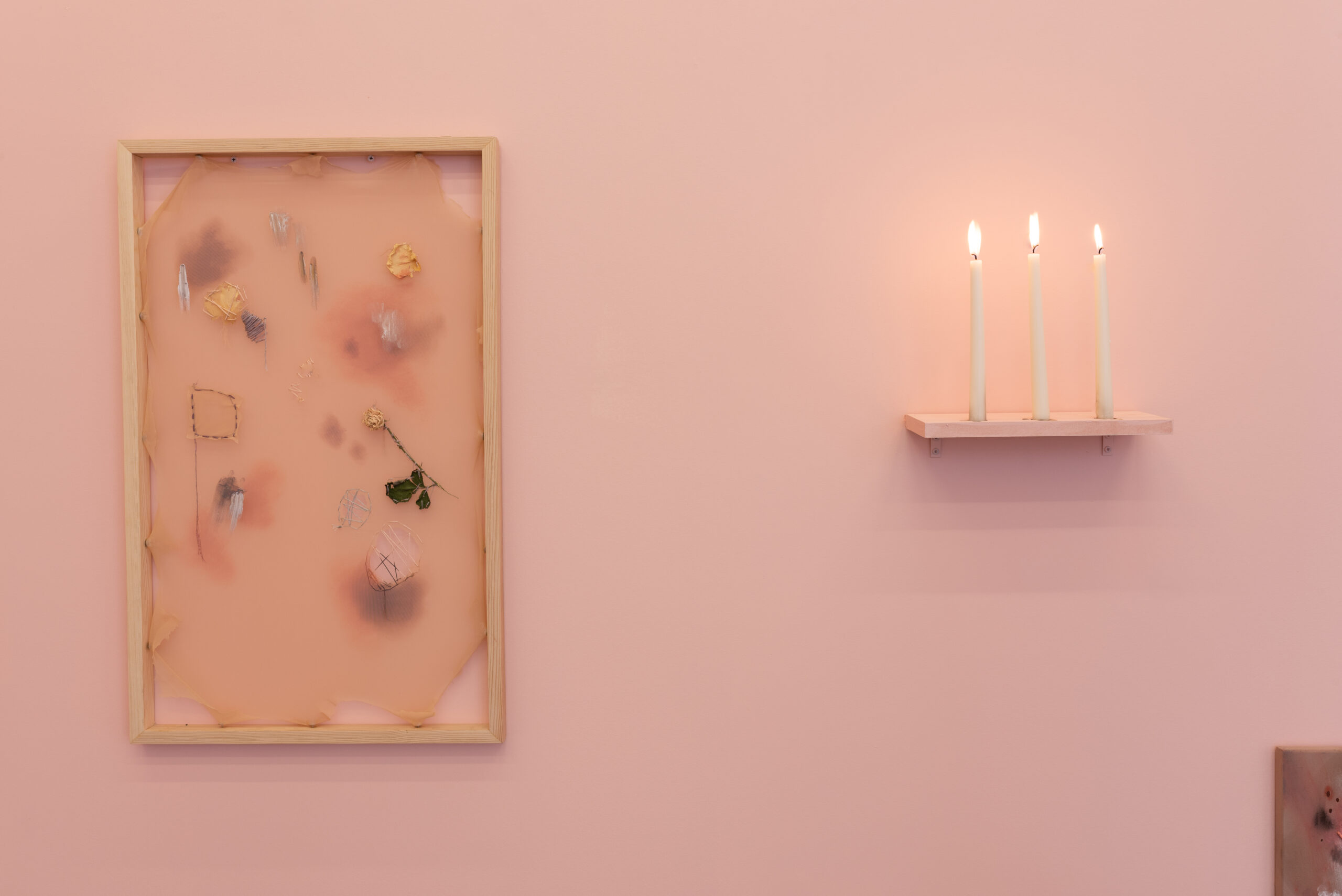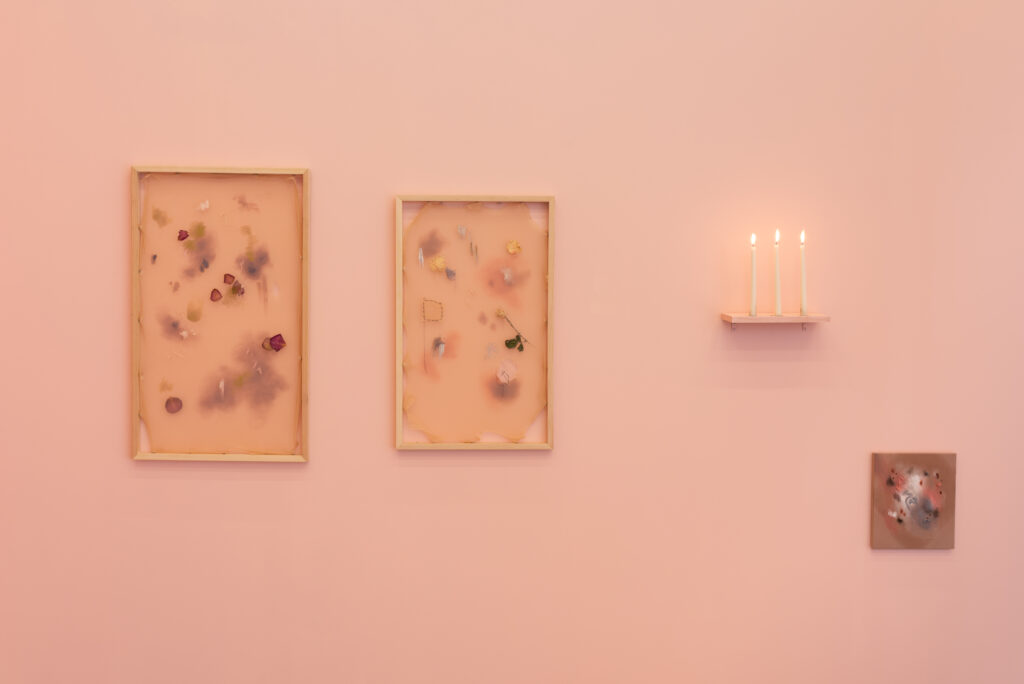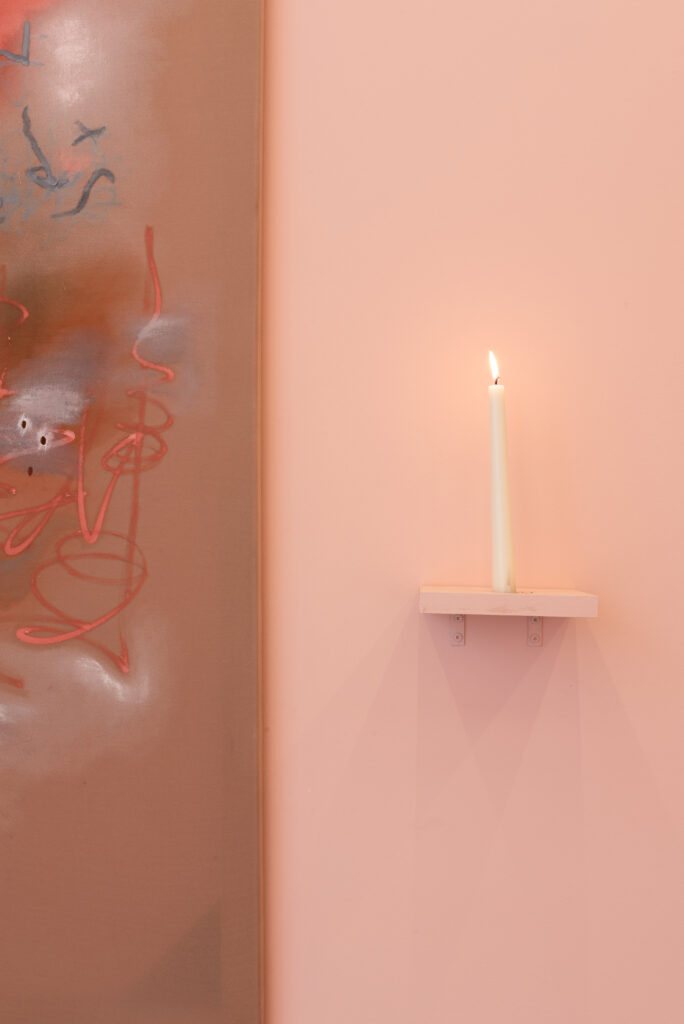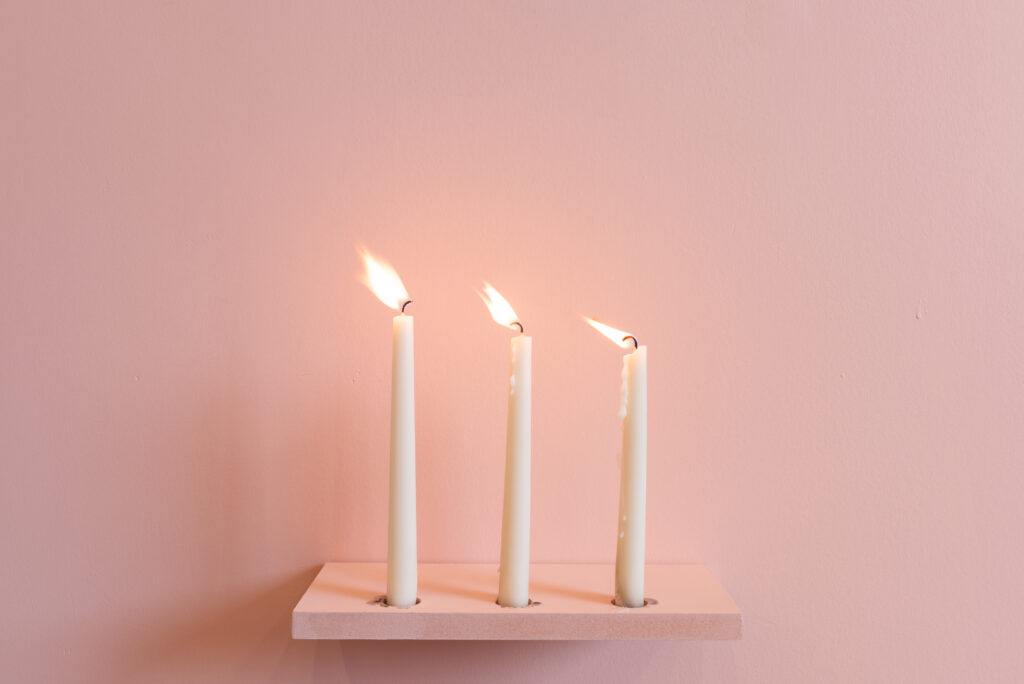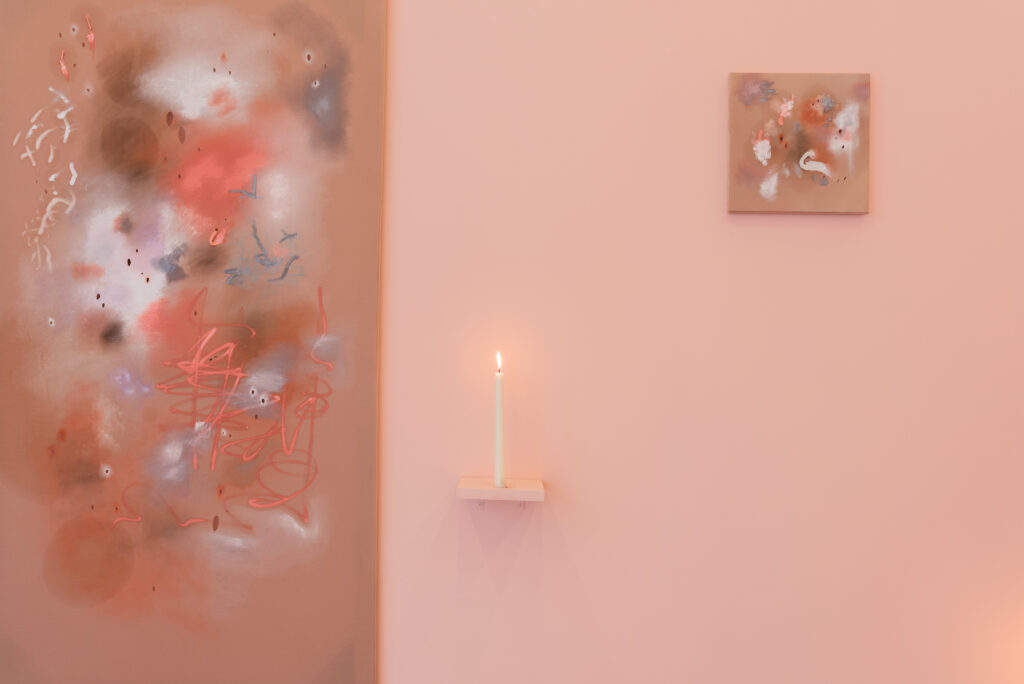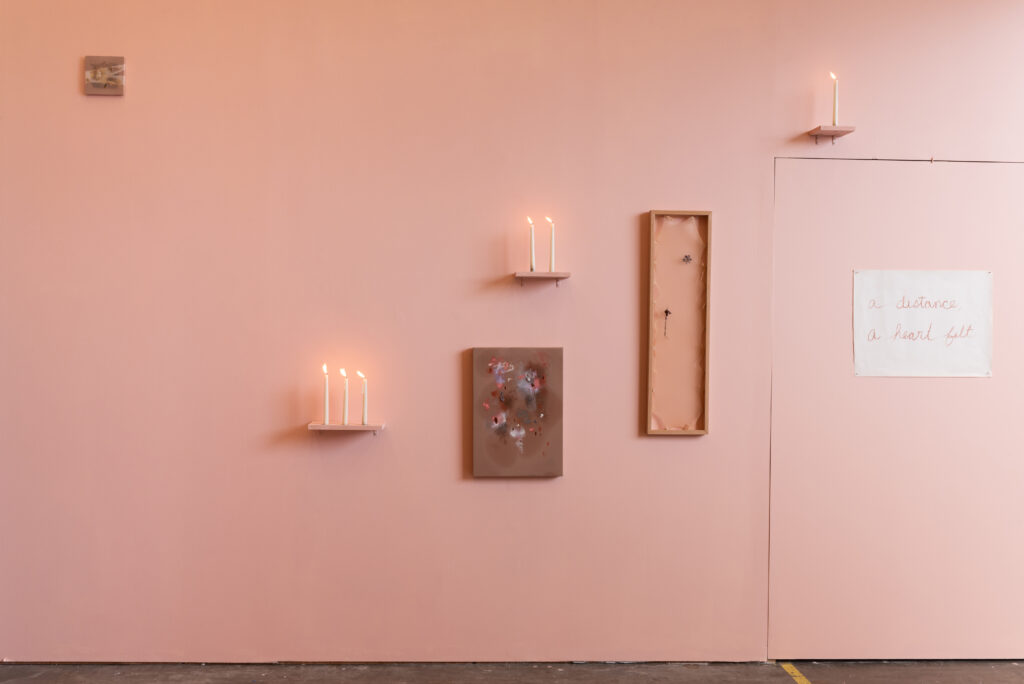 Eric Tkacyk (he/him) is an interdisciplinary, multimedia artist who lives and practices on the ancestral and unceded territories of the xʷməθkʷəy̓ əm (Musqueam), sḵwx̱wú7mesh (Squamish) and səl̓ilwətaɁɬ (Tsleil-waututh) First Nations. Recent solo exhibitions include /ˈsent(ə)nəl/ at Burrard Arts Foundation's Garage in Vancouver, BC (2021-22) and Goneness at Ground Floor Art Centre in Vancouver (2019). Selected exhibitions include beyond the scrim at the Mount Pleasant Community Art Screen (2022), all this time at Number 3 Gallery, online (2020), Graduation Exhibition at Emily Carr University of Art + Design (2020), and Ritual Union at the RBC Media Gallery at Emily Carr (2020). Tkaczyk's work /ˈsent(ə)nəl/ was featured in an article by Clara Dubber in Discorder Magazine (2022). He holds a Bachelor of Fine Arts from Emily Carr University of Art + Design (2020). He is also a board member at Duplex Artist Society.